"REMIDA MILANO" Creative reuse center (3-11 years old)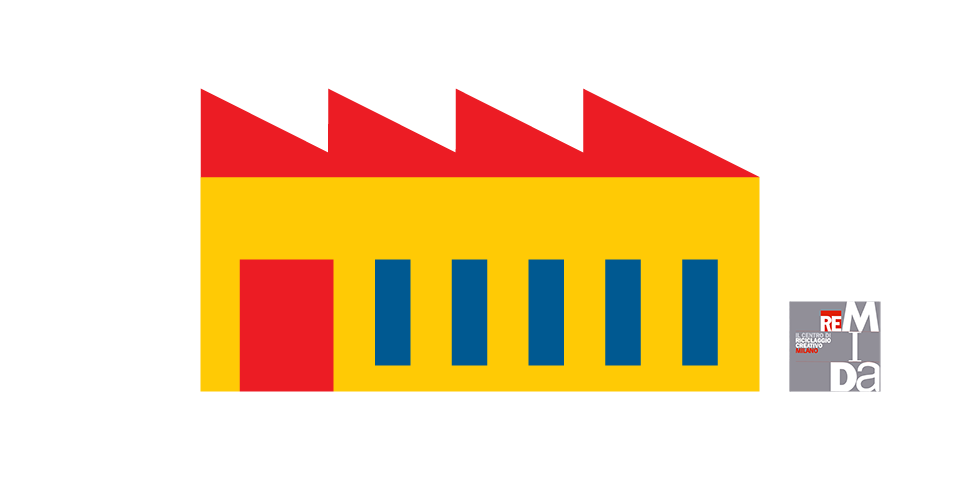 Production and warehouses leftovers are used in a creative and funny way.
They transform, just like anything the mythical King Midas touched, into precious and creative resources.
From 3 to 6 years old and from 7 to 11 years old
Saturday 17th October 2020 | Sunday 18th October 2020
From 7 to 11 years old: entrance at 10am
From 3 to 6 years old: entrances at 2.00pm | 4.00pm - SOLD OUT
All entrances are straggered
75 minutes (staggered admissions every 5 minutes)
Child: €9 (+€1 pre-sale)
Adult: €7 (+€0,50 pre-sale)
WHAT IS IT?
REMIDA, created in Reggio Emilia in 1996, is a project of the Istituzione Nidi e Scuole d'Infanzia (Nursery and Kindergarden Schools) of the Municipality of Reggio Emilia and of Iren Emilia, managed by the Reggio Children Foundation and Centro Loris Malaguzzi. REMIDA network was created through this experience giving origin to more than 14 centers all over the world including REMIDA MILANO.
REMIDA MILANO is the centre for creative reuse of leftover materials opened by MUBA in 2010.

It is a place where the waste materials resulting from industrial and artisanal production are changed into precious and creative resources.
Unstructured and recycled materials of different types (paper, cardboard, ceramic, fabric, plastic, leather, rubber, wood, metal...) are collected and distributed in the space to gain new purpose and meaning.

Educators will stimulate the playing process and will help participants: they are specialized in psychology, theatre, pedagogy, art and science.

The adults are invited to partecipate actively, not only playing but also to take the challenge!
At REMIDA MILANO we all play without shoes!
REMIDA STARTS FROM CHILDREN
On the occasion of the reopening of Saturday 17th and Sunday 18th October, REMIDA MILANO is ready to welcome back its audience in a completely new form!
The experimentations usually proposed have been divided by age in order to privilege children's needs and abilities, and each family has been provided with an ad hoc space for the use of tools and materials.
REMIDA 3-6 SOLD OUT
Children from 3 to 6 years old will have at their disposal various types of waste materials that will be carefully selected by educators to stimulate children in many directions.
We are waiting for you at 14.00 and 16.00 on Saturday 17 and Sunday 18 October 2020. TICKETS ARE SOLD OUT.
REMIDA 7-11
For children from 7 to 11 years of age, special paths have been designed related to the world of logic, art, architecture and much more.
We are waiting for you to play together at 10 a.m. on Saturday 17 and Sunday 18 October 2020. Tickets available from 08th of October 2020.
HOW TO BOOK?
The purchase of tickets will be ONLINE only from 10 a.m. on Tuesday, September 22, 2020, while seats last.
The MUBA ticket office is temporarily closed.
We remind you that it is not possible to book by phone or email.
For problems related to the online purchase please contact the Midaticket ticketing service, which MUBA relies on for all its activities, at the following email customercare@midaticket.it
It will be necessary to select the day, the entrance slot and enter the number of participants.
We also remind you that the entry times will be 5 minutes slots. The full times will appear in the buy section of the site after selecting the selected day.
In order to comply with the anti-covid 19 rules you can buy a minimum of 2 tickets and a maximum of 5 per household per entrance slot and the group must be formed exclusively by members of the same household.
Once the transaction has been completed, you will receive a confirmation email from Midaticket with the attached PDF ticket and the self-certification documentation of good health of the entire household, which must necessarily be completed and presented on the day of your visit in paper form.

WARNING: in case of non-delivery it will not be possible to enter the museum and therefore the activity.
-----
The reservation cannot be changed, cancelled or refunded. It will not be possible to use the tickets for different dates, different entrance slots. It will not be possible to accommodate families late or early, please respect the indicated time.
Thank you for your cooperation and GOOD FUN!!!
TRIAGE
It is necessary to come to the doorway of MUBA (via Enrico Besana 12) with the booking email received from MIDATICKET on smartphone and self-certification documentation of good health of the entire family signed.
Outside the entrance of the Museum there is a reception area for triage: temperature measurement, collection of the signed form on the state of health of the family and hand sanitization.
Adults and children over 6 years of age must necessarily wear the mask inside for the entire duration of the activity.
For safety reasons, children under the minimum age of 3 years will not be accepted.
Each household is accompanied by the MUBA staff to the playing area where it will be necessary to remove shoes to minimize contamination from outside.